In the AEC world, staying updated with the right tools is the key to securing the best projects. One of these key tools is construction bidding websites. Rather than spending numerous hours searching for job opportunities, contractors leverage construction bidding platforms.
However, with a wide range of bidding platforms coming out each year, choosing the perfect one for your needs can feel like an overwhelming task.
In this guide, we provide a comprehensive comparison of the 23 top construction bidding websites so you know where to bid on construction jobs. With our insights, we hope to help you discover which platform might be your game-changer this year.
What Are Construction Bidding Websites and How Do They Work?
Construction bidding websites are online platforms where construction projects, whether public or private, are posted so that contractors and subcontractors can submit bids to execute those projects. These websites serve as a central marketplace for construction project owners, general contractors, subcontractors, suppliers, and sometimes even professionals like architects and engineers.
But, how do they work? In construction bidding websites, owners or their representatives (like architects or construction managers) post details about their construction projects. This can include project descriptions, blueprints, specifications, timelines, and any other relevant information.
Depending on the platform, the projects might be open to any registered contractor or may be visible only to a selected group of contractors. Some sites might also allow subcontractors to view projects only in their specific trades.
Contractors and subcontractors will then review the project details and can then prepare their bids. They then submit these bids electronically through the website. The submission might include a price quote, timeline, scope of work, and any other relevant information.
After the bid is evaluated by the project owner or their representative, it's decided which bid to accept and then they officially award the contract to the winning bidder. Some platforms also facilitate communication between the owner and bidders after the bidding process.
On some sites, after a project is completed, the parties involved may be able to leave reviews or ratings. This helps build reputation scores for contractors and can be a valuable reference for future projects.
Why Should You Use a Construction Bidding Website?
So, what are the benefits of using construction bidding websites? Construction bidding websites allow you to search for projects more efficiently. These websites offer:
Increased Visibility: Contractors get access to a larger number of projects than they might find through traditional means.
Efficiency: Owners can get multiple bids without having to reach out to individual contractors. This streamlines the bidding process.
Market Fairness: With more transparency and a centralized bidding process, prices may become more competitive, benefiting both owners and contractors.
Reputation Building: Contractors can build a positive reputation through reviews and completed projects, making it easier to win future bids.
How Much Do Construction Bidding Websites Cost?
The cost of using construction bidding websites varies based on several factors. These factors include the website's business model, the size of your company, and the specific features or services you require.
Additionally, many construction bidding platforms typically remain discreet about their pricing, often choosing to discuss costs after providing a demo.
Many bidding websites operate on a subscription model where users pay a monthly or yearly fee to access bidding opportunities. The yearly option proves to be more cost-effective over time.
The cost can range from as low as $40 per month for basic access to several hundred dollars per month for premium features. Annual subscriptions can add up to several hundred dollars, varying based on the specific platform.
Moreover, some platforms allow users to pay per project or bid opportunity. This could be suitable for smaller contractors who don't require consistent access to bidding opportunities.
For exact pricing details, it's always best to directly consult with the specific construction bidding website of interest. Their pricing models might change, they might introduce new features or services, or there might be special promotions or discounts available.
Fortunately, we'll be including the prices for the construction bidding websites mentioned in this guide.
Best Bidding Sites for Construction in 2023
With the endless options of bidding sites out there, you probably want to know which ones are worth looking into. That's why, we break it down for you.
Here are the 23 best bidding sites for construction to keep an eye on in 2023.
1. Construction Bid Source
Construction Bid Source is a platform that provides information on construction projects up for bid. The platform aims to connect contractors, subcontractors, and suppliers with project owners and their representatives.
Benefits of Construction Bid Source
Project Searching: Construction Bid Source lets you put your project searches on auto-pilot.
Notifications: Subscribers can receive notifications about new projects that match their interests or criteria, ensuring they don't miss out on potential opportunities.
Geographic Filtering: Contractors can usually filter projects based on their geographic location, allowing them to focus on projects within their operational regions.
Project Categories: The platform typically categorizes projects by type (e.g., residential, commercial, infrastructure), allowing users to quickly identify projects that match their expertise.
Put your project searches on auto-pilot
No Hidden Fees: No "region" pricing and no "tier" arrangement with Construction Bid Source.
Free Consultations: Access to free consultations from their top Marketing team on creating the best tagline for your business.
How Much Does Construction Bid Source Cost?
Beyond the basic membership, Construction Bid Source offers a monthly plan for $49.95 per month, which offers better access to contact info and bid documents. Also, Construction Bid Source helps contractors post Disadvantaged Business Enterprise solicitations for $25 per ad.
Additionally, they offer, a six-month ($270 every six months) and an annual membership ($540 per year).
Is There a Free Version?
Yes, Construction Bid Source offers contractors a free basic membership.
2. Dodge Construction Central
Dodge Construction Central, often associated with Dodge Data & Analytics, is a well-known platform in the construction industry that provides information, intelligence, and insights related to construction projects, industry trends, and market analytics.
According to their website, "Dodge Construction Central is designed to help you find and win more commercial construction opportunities with the most comprehensive data platform in the industry. Develop new connections and enrich relationships, with market insights into building categories and construction projects in your geographic markets."
Dodge Construction Central also claims to provide more than 22,000 new bidding opportunities each month. They offer detailed information on thousands of construction projects, ranging from the planning phase to post-bid. This includes both public and private projects across various sectors.
Dodge Data & Analytics specializes in providing data-driven market insights. Their reports and analyses help businesses understand industry trends, competitive landscapes, and market forecasts.
Benefits of Dodge Construction Central
Wide Range of Projects: Access to a vast database of projects increases the opportunities for contractors, subcontractors, and suppliers.
Informed Decision-Making: With robust analytics and market insights, businesses can make data-driven decisions about where to bid, how to allocate resources, and which markets to target.
Efficiency: The platform streamlines the process of finding, bidding on, and managing projects. The centralized storage of critical documents also means quicker access and less time wasted searching for information.
Networking: The platform enables businesses to connect with other industry professionals, expanding their network and potential collaborations.
Customization: Custom alerts and filters mean that businesses only see the projects and insights most relevant to them, ensuring a tailored experience.
Stay Informed: Receive personalized recommendations about relevant opportunities in your markets.
How much does Dodge Construction Central cost?
To find out how much Dodge Construction Central costs, you'll have to schedule a demo and calculate the total with a representative.
Is There a Free Version?
No, but you can schedule a demo.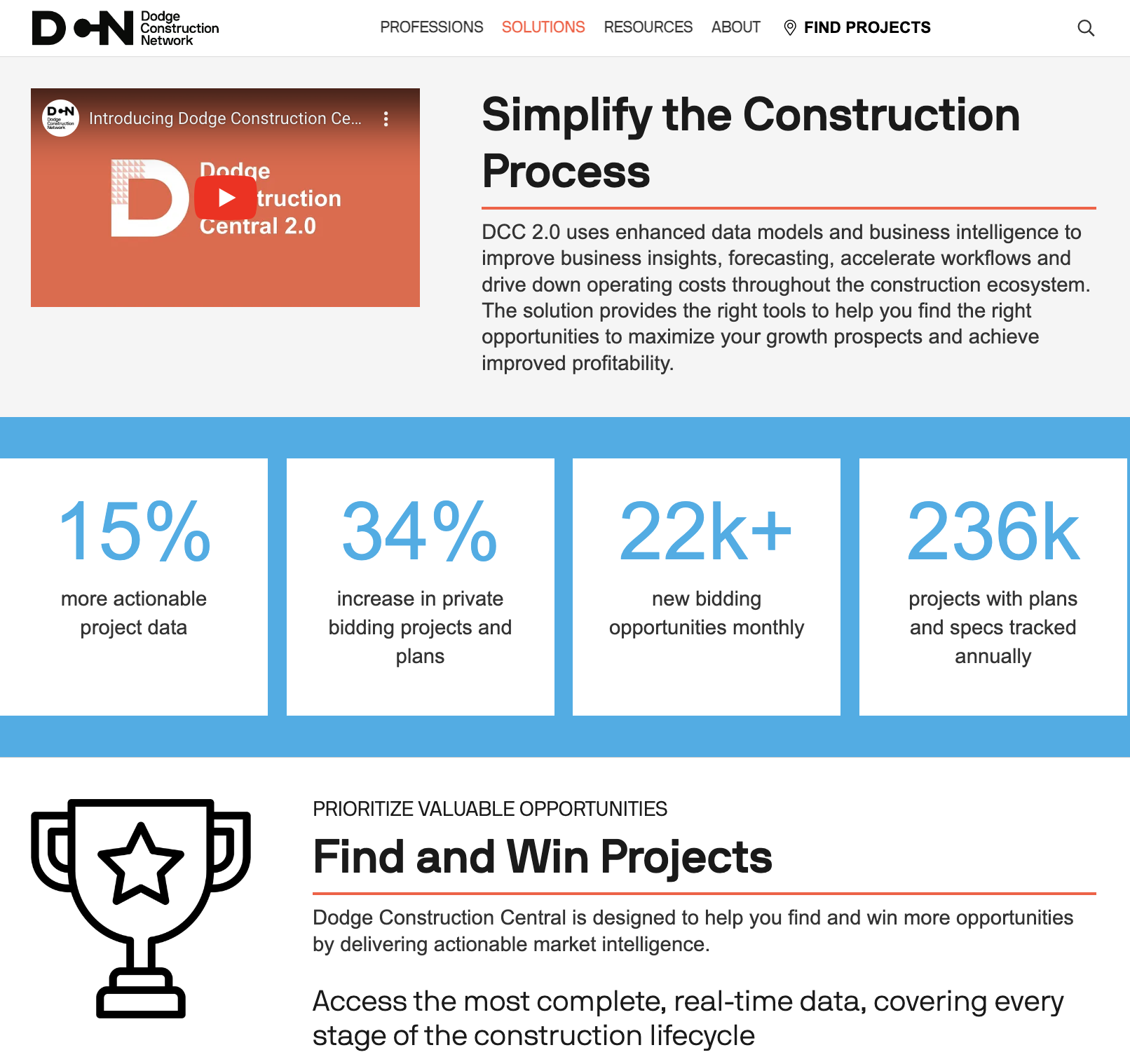 3. Constructconnect
Constructconnect, previously iSqFt, is a recognized online preconstruction network connecting general contractors, subcontractors, suppliers, and manufacturers in the construction industry. The platform facilitates the bid and procurement process by offering tools for project discovery, construction bid management, and communication.
For subcontractors, this could be among the top construction bidding platforms. The website was crafted with the primary goal of connecting subcontractors with general contractors (GCs). These general contractors can send requests for proposals (RFPs) or bid invitations, while subcontractors have the chance to propose on projects presented by the GCs.
Benefits of Constructconnect
Access to Opportunities: With its large project database, Constructconnect offers businesses a wide array of opportunities, ensuring they don't miss out on potential projects.
Increased Accuracy: With real-time updates on projects and bid invitations, businesses can ensure they have the most accurate and current information.
Networking: With a network encompassing over 1,500 general contractors, Constructconnect enhances visibility for subcontractors and presents them with an expanded range of project prospects.
How Much Does Constructconnect Cost?
Simply put, the price depends. When you go to Constructconnect's pricing page, you will be asked for your business type. You will have the option of "Subcontractor," "General Contractor," and "Manufacturer." You can also select an industry, from "Architect" to "Hotel/Motel," the webpage will display the pricing options for your selection.
Is There a Free Version?
No, but you can schedule a demo.
4. Bidclerk
BidClerk is an online platform designed to serve professionals within the construction industry. It connects contractors, suppliers, and other industry stakeholders by providing data and information about construction projects available for bid.

BidClerk stands as one of the premier construction bidding platforms, having submissions of over 400,000 projects annually. It sets a high benchmark in user experience, showcasing superior search capabilities, metrics, criteria, and mobile responsiveness compared to many other sites.
The platform serves a diverse range of projects, from private, commercial, industrial, and educational sectors, to name a few. Project valuations on BidClerk can vary from modest amounts to those worth several millions. Project owners simply input their project details and await incoming bids.
Benefits of Bidclerk
Comprehensive Project Listings: BidClerk offers a vast database of construction projects, ranging from commercial to residential, and from public to private sectors. Users can search for projects that are currently bidding, in the planning phase, or that have recently been awarded.
Project Details: Each project listed includes key details, such as project descriptions, estimated values, project statuses, contact details, and sometimes bid dates.
Geographic and Category Filters: Users can filter projects based on location, construction type, project phase, and other parameters to find opportunities that align with their expertise and interests.
Daily Updates: The platform is often updated daily, ensuring users get timely information about new and updated projects.
How Much Does Bidclerk Cost?
BidClerk's website isn't very clear about its membership costs. Therefore, you should contact a representative to select the best plan.
Is There a Free Version?
It's unclear. However, you can schedule a demo.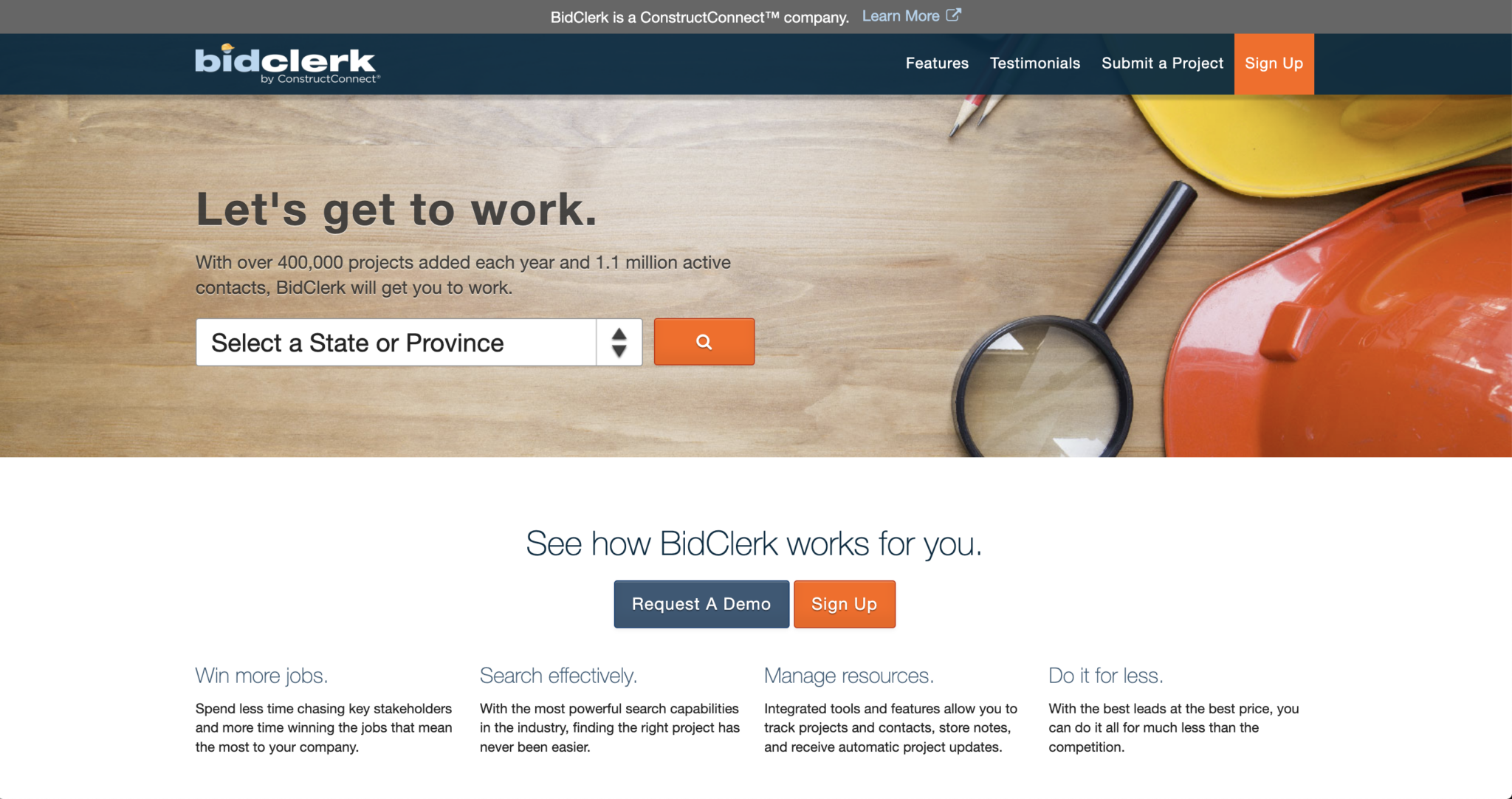 5. ConstructionWire
ConstructionWire is an online database of more than 580,000 construction projects (mostly private and commercial) in the planning, bidding, and pre-construction stages. They provide the entire picture of new construction projects through three reports:
The Project Report
The Company Report
The People Report
Combined, these reports provide the information you need to win more customers, not just projects.
ConstructionWire aims to keep industry stakeholders informed about new construction opportunities and offers details that can assist businesses in planning and decision-making.
Benefits of ConstructionWire
Project Database: Users have access to three main databases, including projects, companies, and people.
Accuracy: CosntructionWire vets each job to ensure it's valid and accurate, meaning less wasted time on your part.
Detailed Project Profiles: CosntructionWire users can filter the projects using project names, company names, or project reports.
Notification Services: Subscribers can set up alerts for new projects that match their predefined criteria, ensuring they're always updated on relevant opportunities.
How Much Does ConstructionWire Cost?
Specific information is not listed on the company website. However, They offer four membership plans to choose from based on your needs.
Regional Portal
National Portal
Data Services
Flexible Pricing Plans
Is There a Free Version?
No, but there is a free trial available.
6. Governmentbids.com
GovernmentBids.com is an online platform dedicated to providing information on government bid opportunities. Despite its name, the platform isn't overseen by any government entity or agency. Its appeal for projects stems from its user-friendly nature and esteemed standing as the leading source for local, state, and federal bids.
While the site might not have an updated design, it makes up for it with an intuitive interface. Users can sift through an extensive collection of over 35,000 contracts, RFPs, and procurement systems.
Benefits of Governmentbids.com
Bids: GovernmentBids.com gathers and lists bids, RFPs, and contract opportunities from numerous government agencies, making it easier for businesses to find relevant opportunities.
Daily Notifications: Subscribers receive daily notifications about new and updated bids that match their specific criteria or areas of interest.
Search and Filter: Users can search for specific bids based on keywords, categories, regions, or other criteria, ensuring they can pinpoint opportunities relevant to their businesses.
Comprehensive Bid Details: Listings often provide comprehensive bid details, including project descriptions, bid deadlines, relevant documents, and contact information.
How Much Does Governmentbids.com Cost?
The answer depends on the package you select. The website offers one-year and two-year plans, the latter saving you money. Depending on the package you select, prices range from $0 to $45 per state per month (as shown below).
Is There a Free Version?
Yes, there is a free version with limited features, only allowing you access to member agencies' bids.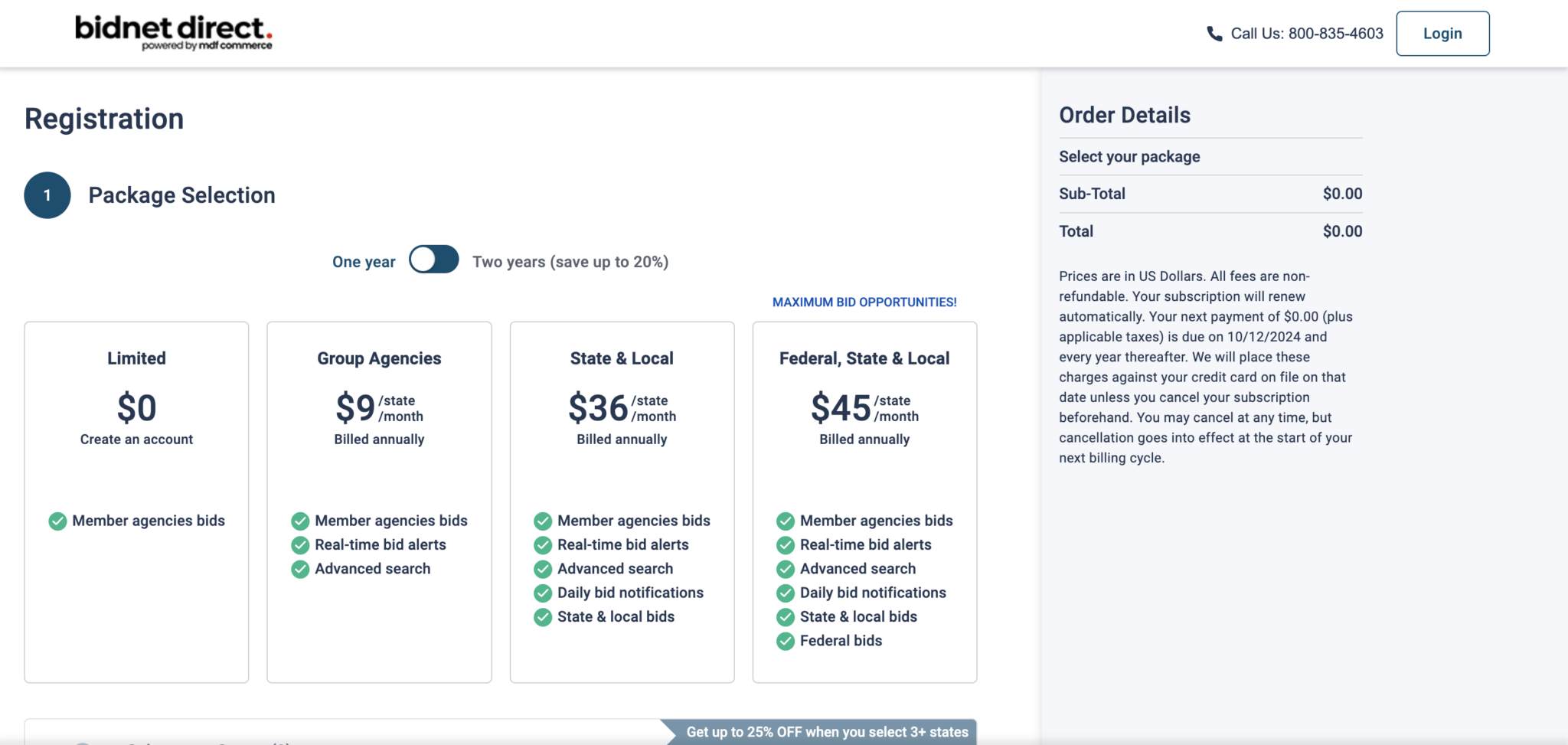 7. BidNet
BidNet is an online service that specializes in providing government bid opportunities, RFPs, and government contracts from federal, state, and local agencies. The platform aims to help businesses find and secure public sector contracts by streamlining the discovery and tracking process.
Benefits of BidNet
Government Bid Listings: BidNet aggregates bids, RFPs, and procurement opportunities from various government agencies, making it a centralized resource for public sector contract opportunities.
Targeted Notifications: Subscribers receive tailored notifications about bid opportunities that match their industry, service, or product categories.
Advanced Search Filters: Users can apply specific criteria, such as region, agency type, or industry category, to narrow down the opportunities and find those most relevant to them.
Bid Library: The platform offers a repository of past bids, allowing businesses to research historical bid data and better prepare for future opportunities.
Bid Tracking: Allows users to monitor particular bids, keep track of deadlines, and manage the bidding process more effectively.
How Much Does BidNet Cost?
When clicking on the pricing details, you are redirected to the same image payment page as Governmentbids.com. Therefore, the prices are the same— from $0 to $45 per state per month.
Is There a Free Version?
Yes, there is a free version with limited features, only allowing you access to member agency's bids.
8. BidCentral (Canada)
BidCentral stands out as a prominent construction bidding platform, listing over 50,000 projects valued at an impressive $25 billion. Its user-friendly interface ensures effortless access to comprehensive and accurate project details. Users can navigate projects based on company profiles, documentation, or even geographical locations.
Additionally, the platform allows easy viewing, downloading, or printing of essential project plans. BidCentral's automatic alerts help users monitor projects and meet upcoming deadlines efficiently.
The site also features a unique opportunity matching system, delivering tailored project suggestions straight to your inbox. For subcontractors, there's the added advantage of tools like intention-to-bid, contractor directories, and other essential bid management resources.
Benefits of BidCentral
Extensive Project Listings: With over 50,000 projects listed, users have a wide option of opportunities, increasing their chances of finding projects that align with their expertise.
User-Friendly Interface: The platform is designed for ease of use, allowing users to effortlessly navigate and access project data.
Versatile Search Options: Users can search for projects based on various criteria like company descriptions, documentation, or geographical locations, catering to diverse user preferences.
Document Access: The ability to view, download, or print essential project plans directly from the platform facilitates better project understanding and bid preparation.
Automatic Notifications: BidCentral's alert system ensures users stay updated on project changes and are aware of upcoming deadlines, preventing missed opportunities.
Opportunity Matching: The platform's unique system identifies and sends tailored project suggestions directly to users' inboxes, ensuring they're aware of opportunities best suited to their capabilities.
Tools for Subcontractors: BidCentral offers specialized features for subcontractors, including intention-to-bid tools, contractor directories, and other vital bid management resources.
How Much Does BidCentral Cost?
BidCentral offers "Premium-Annually" ($875) and "Premium-Monthly" ($79) pricing plans. Both of these plans offer complete access to all the features and tools in BidCentral.
Is There a Free Version?
Yes, but it only comes with access to basic features.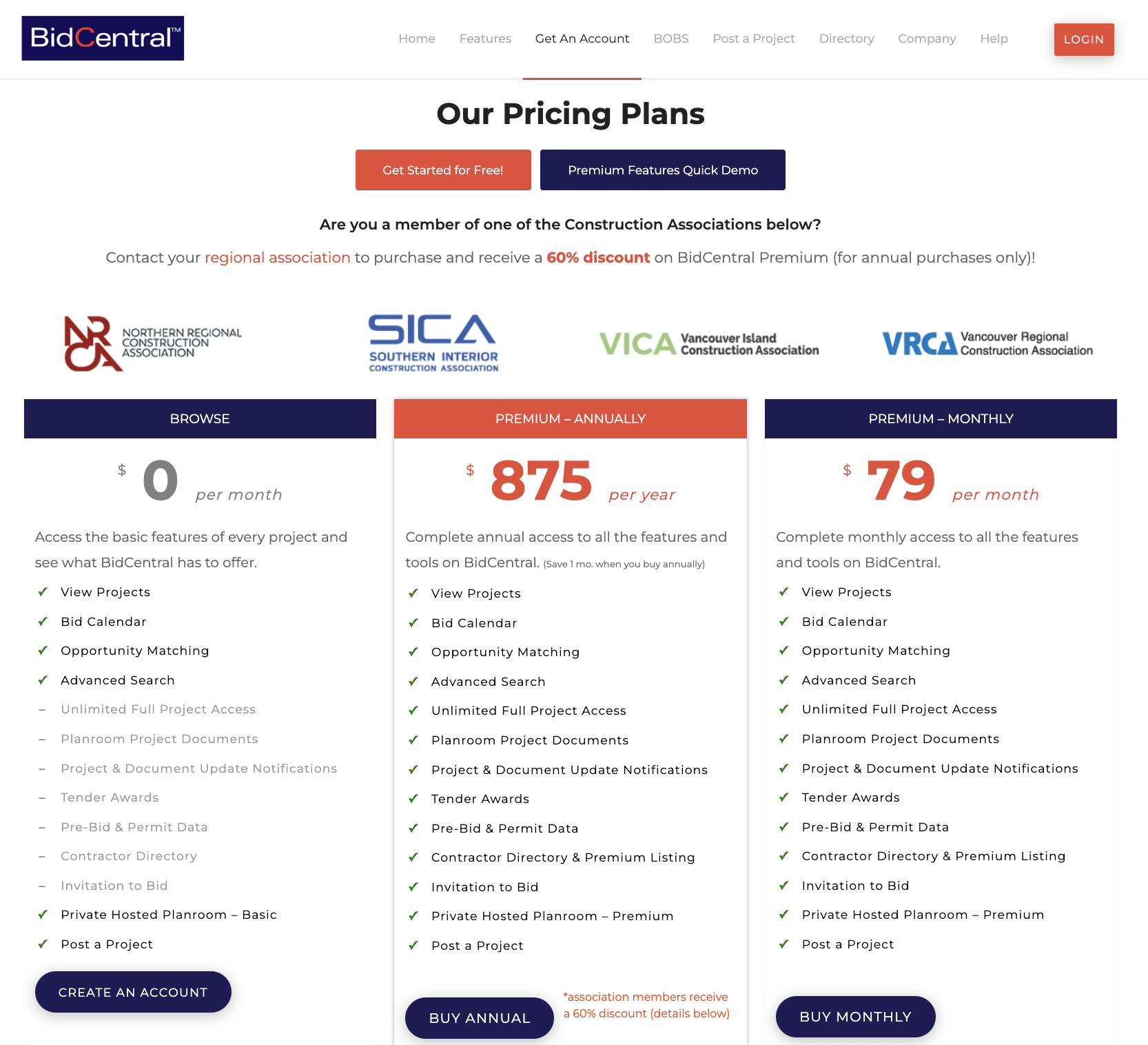 9. Construction Market Data (CMD Group)
CMD Group (now ConstructConnect), is a leading provider of market intelligence, data, and analytics for the North American construction industry. The platform focuses on offering detailed information on construction projects, starting from the initial planning stages to post-bid phases.
The site serves as a substantial tool for subcontractors, offering vital market data when looking for projects to bid on. The platform monitors a multitude of commercial projects and notifies users of opportunities that align with their expertise.
Benefits of CMD
Project Database: CMD provides a comprehensive database of construction projects, both public and private, in various stages – from conception to completion.
Lead Services: Users can access detailed leads on construction projects, including project status, key players, project values, and more.
Forecasting and Analytics: CMD offers market forecasts, trend analyses, and other analytical tools to provide insights into the construction market's direction and health.
Network Building: The platform connects various construction industry stakeholders, facilitating collaboration and networking.
Integrated Platform: CMD often integrates its data with other construction software solutions, allowing users to have a seamless workflow.
How Much Does CMD Cost?
Simply put, the price depends. When you go to Constructconnect's pricing page, you will be asked for your business type. You will have the option of "Subcontractor," "General Contractor," and "Manufacturer." You can also select an industry, from "Architect" to "Hotel/Motel," the webpage will display the pricing options for your selection.
Is There a Free Version?
No, but you can schedule a demo.
10. Biddingo.com (Canada)
Biddingo.com features a blend of government and private projects, bridging the gap between buyers and suppliers in numerous sectors, including municipal, provincial, housing, education, and corporate.
Predominantly catering to public and private entities in Canada, it offers an archive of over 30,000 past and present bids, complemented by daily search capabilities and email notifications. Users have the convenience of aligning their company profiles and owner details with bids of interest.
Benefits of Biddingo.com
Research Assistance: Biddingo levels the playing field for small to medium-sized companies by conducting extensive research on their behalf, scouring hundreds of sites daily.
Expansive Bid Listings: In the digital age, while government agencies are more transparent, there's also a surge in the number of bids available. Biddingo ensures you don't get overwhelmed by this influx.
Tailored Recommendations: With the increasing content to sift through, there's a risk of missing the perfect opportunity. Biddingo acts as a personal matchmaker, filtering relevant government contracts that align with your profile.
Timely Updates: In the bidding world, time is crucial. Biddingo ensures swift and thorough research so you're promptly informed, allowing you to focus on crafting your proposal without fearing missed deadlines.
Continuous Opportunities: Register with Biddingo to tap into consistent bid opportunities, ensuring you never miss out on potential business projects.
How Much Does Biddingo.com Cost?
Biddingo.com offers a "Free" and "Premium" option. However, to know the price for the "Premium" option, you will need to register first, and then make your purchase.
Is There a Free Version?
Yes, you can register for free, with limited access.
11. planHub
planHub stands out as a valuable tool for those in the commercial construction space, serving as both a subcontractor bidding site and a general contractor (GC) bid management hub. Recognized by many companies as one of the top construction bidding websites, it caters to both construction bid lead seekers and bid management needs.
planHub offers its cloud-based services without any hidden costs, ensuring subscribers can access its full suite without unexpected charges. Registration is complimentary. The platform facilitates easy engagement for both GCs and subcontractors: GCs can quickly list their projects, while subcontractors can bid on nearby opportunities.
Additionally, users can sort construction projects by state, enabling targeted searches. With PlanHub, both GCs and subcontractors can access project files seamlessly from anywhere.
Benefits of planHub
Free Registration: This allows potential users to access the platform without any initial cost barrier. It encourages a broader range of construction professionals to explore the platform and understand its benefits firsthand.
Ability to Send Invitations: This feature empowers General Contractors (GCs) and project managers to invite subcontractors or other stakeholders to bid on or review a project. It streamlines the process of reaching out to potential collaborators.
No Limitation on Number of Projects: Whether a company handles a handful of projects or several simultaneously, planHub ensures they can manage all their projects on a single platform without constraints.
Unlimited Team Members: Companies of all sizes can onboard their entire team, from top management to field personnel. This ensures seamless collaboration and communication among team members.
Activity Tracking: This feature offers visibility into project updates, bid status, and user interactions. It aids in monitoring project progress and ensures transparency throughout the bidding process.
Bid Organization: With multiple bids coming in for a project, this feature categorizes and structures bids, making it easier for GCs to review, compare, and select the best fit for their project.
Unlimited File Space: Construction projects come with a variety of documents, blueprints, and related files. planHub's unlimited storage ensures that all relevant data can be uploaded, accessed, and shared without concerns about running out of space.
How Much Does planHub Cost?
planHub lets you sign up for free and does not list any further pricing details on their website.
Is There a Free Version?
Yes, you can try planHub for free and you can also request a demo.
12. BuildingConnected
BuildingConnected is an advanced preconstruction platform that brings general contractors, subcontractors, and building owners together. Acquired by Autodesk, it focuses on streamlining the bidding process, enhancing project management, and improving collaboration in the construction industry.
Renowned as a leading online construction bidding platform, BuildingConnected provides a seamless bid management journey from beginning to end. The firm takes pride in its status as the most expansive real-time construction network.
Additionally, they offer an intuitive user experience (UX). With this platform, invitations can be sent in under ten minutes and overseen from a centralized location. It also facilitates side-by-side bid comparisons. The platform offers comprehensive analytics for the entire company, tracks past cost data, and monitors relationship interactions.
Benefits of BuildingConnected
Bid Management: BuildingConnected offers tools for general contractors to send out bid invitations, track responses, and manage the overall bid process.
Subcontractor Network: The platform has a vast network of subcontractors, making it easier for general contractors to discover and connect with potential partners based on trade, region, or past performance.
Bid Board: Subcontractors can view and manage all their bid invitations, communicate about project details, and submit their bids all in one place.
Risk Management Tools: BuildingConnected provides features that help assess and understand the risk associated with potential project partners.
Document and Communication Centralization: All relevant documents, communications, and bid details are housed within the platform, reducing scattered information and potential miscommunication.
How Much Does BuildingConnected Cost?
Buildingconnected offers Bid Board Pro, which will give you access to all the premium features available. However, pricing is based on your specific office size and usage. To get pricing for your office, you must contact sales.
Is There a Free Version?
Yes, there is a free version with limited functionalities.
13. MERX (Canada)
MERX, a Canadian firm, offers both public and private project listings, with an additional feature to access U.S. Bidding Opportunities. They've streamlined the bidding process through their eBid SubmissionSecure, enabling a more efficient electronic bid submission.
The search parameters on MERX seemingly revolve around geographical location (either Canada or the US), the entity category (Public – Federal, State, and Local), the nature of construction (private), regional specifics (by State), and bid status (like Open Bids, Closed Bids & Awards).
Benefits of MERX
Enhanced Market Insights: Obtain business intelligence data to pinpoint crucial buying times and anticipate upcoming initiatives.
Opportunity for Collaboration: Utilize the Document Request List feature to spot potential partnership opportunities.
Prompt Updates: Benefit from automatic email alerts for modifications to tenders you've previously accessed.
Efficient eBidding: Experience a simplified and secure bidding journey with the Electronic Bid Submission feature.
How Much Does MERX Cost?
Aside from their free plan, they offer "Local," "Regional," and "National" plans. These plans range from $60 to $160 per month. However, you can save up to 50% off, if you opt for the annual plan.
Is There a Free Version?
Yes, they have a free "Basic" option with On-demand access to opportunities and eBid submissions. However, it offers a Pay-As-You-Go model and charges $70 per solicitation.
14. BidBoard by Procore
Procore's Bid Board tool at the company level, often referred to as Portfolio Planning, facilitates the seamless viewing and management of all bid invitations your company receives. It grants you access to comprehensive bid details and associated documents, enables you to oversee your bidding intentions, and initiates the takeoff and estimation procedures, all within a single tool.
Once a bid secures approval, you can integrate the project into your Portfolio. This action subsequently creates a new project in Procore, letting you proceed with the Estimating tool.
Benefits of Procore
Centralized Bid Management: Streamlines the process of viewing and managing all bids your company is invited to, consolidating all necessary information in one location.
Detailed Bid Access: Allows you to see comprehensive details and associated documents for each bid, ensuring you have all the information you need to make informed decisions.
Intention Management: Facilitates the process of managing and declaring your intention to bid, ensuring clarity and transparency for both your team and the project owner.
Integrated Takeoff and Estimation: Seamlessly begin the takeoff and estimating process from within the Bid Board tool, enhancing efficiency and accuracy.
Smooth Transition Post-Award: Once a bid is awarded, easily transition the project into your Portfolio, automatically creating a new project in Procore.
Continued Workflow with Estimating Tool: After adding a project to the Portfolio, you can continue your tasks within the Estimating tool, ensuring a continuous and uninterrupted workflow.
The Bid Board tool is designed to enhance transparency, efficiency, and accuracy throughout the bidding process and beyond.
How Much Does Procore Cost?
It's unclear and you should head to the Procore website for a custom quote. According to their website, pricing for Procore depends on the products you need and the amount of construction you do. The more projects you run through Procore, the more value you receive from the software in terms of cost savings, efficiencies, and productivity gains.
Is There a Free Version?
It's unclear, but there was no mention of a free version on their pricing page.
15. SmartBid
SmartBid stands as the premier bid management software for general contractors globally. Using the SmartBid software tailored for general contractors, they can leverage both a web-based and mobile platform, making it simpler to manage their preconstruction project data, documents, and communication with subcontractors.
Benefits of SmartBid
Centralized Bid Invitations: Seamlessly create custom communications or employ templates to dispatch bid invitations from a unified location. Stay updated on bid proposals, send out information requests, and continually monitor the progress of subcontractors' bids.
Streamlined Document Sharing: Utilize an online centralized dashboard that empowers the preconstruction team to efficiently manage the subcontractor database, categorizing by trade, location, and more. Expand your connections through our Public Registry which features hundreds of thousands of subcontractors seeking bid opportunities.
Enhanced Subcontractor Data Management: Provide subcontractors with tailored access to your online plan room for them to review project documents and propose bids. Keep track of the plan files they access and download, and jointly work on estimates via our integrated takeoff feature.
How Much Does SmartBid Cost?
SmartBid pricing is unclear and you should get in touch with sales for accurate pricing information.
Is There a Free Version?
It's unclear. However, you can request a free demo.
16. GovTribe
GovTribe offers a platform to discover and bid on government projects within your vicinity directly through its site. Over recent years, GovTribe has expanded its reach, now encompassing more than 2 million projects from diverse government tiers across North America.
By setting up a profile on GovTribe, you'll receive alerts tailored to new bids aligning with your expertise. Additionally, the platform provides insights into bids placed by other contractors, enabling you to gauge the competitiveness and fairness of pricing.
Benefits of GovTribe
Contracting Opportunities: GovTribe lists available federal contract opportunities, helping businesses identify and bid on potential contracts.
Data Tracking: The platform tracks various federal data, including contracts, grants, and other related information, providing an in-depth view of federal procurement activities.
Notification Features: Users can set up alerts to be notified of new opportunities or updates to existing ones that match their interests or expertise.
Competitive Analysis: GovTribe provides insights into bids made by competitors, enabling businesses to strategize effectively and gauge the competition.
Historical Data: The platform offers historical contracting data, which can be essential for trend analysis and understanding past procurement patterns.
User Profiles: Businesses can create profiles, highlighting their expertise, past contracts, and other relevant details, making it easier to showcase their capabilities to potential government clients.
How Much Does GovTribe Cost?
GovTribe offers a "Basic" plan for $500 per year and a "Standard" plan for $3,000 per year. They also offer an "Enterprise" option for larger teams. However, you will need to contact sales for the exact price.
Is There a Free Version?
No. However, they offer a 14-day Free Trial.
17. Bid Ocean
Bid Ocean provides a free service, enabling you to explore bids and opportunities tailored for subcontractors. For those already in the subcontracting field, this platform can be a valuable resource to secure more projects.
Through Bid Ocean, you can discover fresh bids, gain insights into contracting firms, and connect with fellow subcontractors nearby. Additionally, it allows users to showcase their company's profile and even share feedback about other enterprises they've collaborated with.
Benefits of Bid Ocean
Expansive Bid Opportunities: The platform provides over 25,000 bidding active bidding projects and a wide range of subcontractor opportunities, catering to various specialties and project sizes.
Diverse Industries: While particularly strong in the construction sector, Bid Ocean also covers bids from many other sectors, making it a versatile tool for a broad range of businesses.
Free Service: Being a complementary platform, it offers cost-effective solutions for subcontractors looking for new opportunities without incurring additional expenses.
Comprehensive Service: Beyond just bid listings, Bid Ocean provides tools and services that help businesses manage bids, understand industry trends, and make informed decisions.
How Much Does Bid Ocean Cost?
Bid Ocean is free to sign up and additional pricing information on their website is vague. However, if you provide them with information about your company and their needs, they will prepare a demonstration of their services and a free 1-week trial specific to your organization's needs.
Is There a Free Version?
Yes, signing up on Bid Ocean is free.
18. Bidspeed
Bidspeed helps you win government contracts. It's an online tool that allows you to manage your bids and subcontractors. According to their website, $3B in new Government contracts have been awarded to Bidspeed subscribers, with an average contract value of over $1M.
With Bidspeed, you can initiate, oversee, and monitor construction projects. It stands out as a top bid management software in the construction sector, and its reputation is well-deserved.
Bidspeed seamlessly integrates data from multiple public sources, delivering comprehensive insights and information to government contractors, agencies, and advocacy groups.
Benefits of Bidspeed
Government Pipeline Management: The Bidspeed platform provides end-to-end "best practice" processes for Government pipeline and solicitation management.
Collaboration: Bidspeed allows collaboration between contractors (e.g. teaming, sub-contracting), between contractors and service providers, between contractors and economic development resources, and between buyers (contracting officers, program managers) and contractors.
Opportunity Data: There are lots (and lots) of ways to find opportunity data. Understanding the opportunity, the agency, and the buying history are different. Bidspeed answers your questions about an opportunity, an incumbent, or previous related task-order awards.
How Much Does Bidspeed Cost?
Bidspeed offers six different pricing tiers, from "Basic" to "Diamond." Their "Basic" option is free while their "Diamond" option requires you to request a quote. Outside these 2 options, you have "Bronze" ($59/month), "Silver" ($150/month), "Gold" ($195/month), and "Platinum" ($295/month) available. More details on what each tier includes can be seen in the image below.
Is There a Free Version?
Yes, Bidspeed offers a free version with basic features, giving you access only to federal opportunities.
19. Building Radar
Building Radar uses an AI-based Revenue Engineering solution. It's a go-to choice for some of the industry's top construction firms. The platform not only showcases global construction projects but is especially noted for its quick pinpointing of relevant construction leads.
Thanks to Building Radar's innovative artificial intelligence (AI) capabilities, it can forecast construction projects well in advance. This foresight allows contractors to optimize resource allocation using the bid management software. Therefore, they gain heightened visibility, enhance their potential to secure projects, and boost their revenue prospects.
Benefits of Building Radar
Technology Leader: Building Radar's unique revenue engineering platform combines AI, process excellence, and targeted talent development.
Artificial intelligence: AI technology identifies new construction projects as early as possible. Thanks to AI-based recommendations, customers know which projects to focus on first.
Tracking: Building Radar's revenue engineering software gives customers full transparency into their current conversion and win rates helping them execute proactive sales efforts effectively.
Time-saving: Automatic sequences and direct integration into the existing CRM infrastructure save you valuable time.
How Much Does Building Radar Cost?
On Building Radar's website, pricing is unclear. They encourage you to book a first meeting for free so you can learn more about how their AI-based Revenue Engineering solution can add value to your business.
Is There a Free Version?
It's unclear. However, your first meeting with their team is free.
20. BuilderStorm (U.K.)
BuilderStorm offers cloud-based project management solutions, enabling construction firms to handle various project aspects such as estimation, bidding, scheduling, and invoicing. The software integrates with widely used platforms like Procore, Autodesk BIM 360, Bluebeam, and others.
Benefits of BuilderStorm
Company Management: Manage all your contacts within BuilderStorm to be seamlessly integrated with the full suite of our tools.
Digital Documents: Replace all your paper forms with a flexible digital form creator that can pull in data from BuilderStorm, and take signatures, while tracking everything digitally.
Company Documents: Unlimited storage for all your company project files with easy access for all users; facility to manage access and permissions.
Project Management: Create unlimited projects, assign users, and manage all from within a single system. Allows users to be added to multiple projects, ideal for office staff.
How Much Does BuilderStorm Cost?
Pricing is not available on the website. You should get in contact with BuilderStorm for specific pricing.
Is There a Free Version?
It's unclear. However, you can schedule a demo with the platform.
21. Buildertrend
Buildertrend is a cloud-based platform tailored for home builders and remodelers, facilitating the management of the administrative aspect of construction. Using Buildertrend, users can initiate jobs and dispatch them to contractors.
Additionally, the software offers capabilities to track expenses and assess project performance through its accounting functionalities.
The firm's software is crafted to assist contractors and subcontractors in overseeing their projects, bids, and collaborative efforts. It caters to a diverse range of sectors, encompassing construction, remodeling, and renovation, as well as serving real estate developers, investors, brokers, and agents.
Benefits of Buildertrend
Centralized Project Management: Manage job schedules, quickly view documents, mark up project plans, and send estimates from one central hub.
Time Tracking: Track time spent on each job so you know what your subcontractors should be paid for their work
Financial Success: Create estimates based on the cost per square foot for materials and labor which will help in bidding for future projects. Estimate how much it will cost to complete your project.
How Much Does Buildertrend Cost?
Pricing is offered at a monthly cost or an annual cost, with the latter saving you money. Monthly costs have three tiers, ranging from $99 to $699 (price increases after the first month) while the annual costs range from $339 to $829 per month. More details on each pricing option can be found below.
Is There a Free Version?
No, however, you can schedule a demo.
22. SAM.gov
SAM.gov is the official U.S. government website for federal bids that consolidates multiple federal procurement systems into a single, unified system. It acts as a central database for entities that do business with the federal government, offering several functionalities.
Benefits of SAM.gov
Vendor Registration: Organizations wishing to do business with the U.S. government must register on SAM.gov to become eligible to receive federal contracts.
Contract Opportunities: SAM.gov lists available federal contracting opportunities, making it easier for businesses to identify potential contracts they might be interested in.
Exclusions: The system lists entities that are excluded from receiving federal contracts due to reasons like suspension, disbarment, or other legal actions.
How Much Does SAM.gov Cost?
As SAM.gov is an official U.S. government website, it's 100% free.
Is There a Free Version?
Creating an account is free.
23. The Blue Book Building & Construction Network
The Blue Book Building & Construction Network, commonly referred to as "The Blue Book," is a leading source of regional, categorized construction information in the United States. It has been a staple in the construction industry for decades.
Benefits of The Blue Book Building & Construction Network
Comprehensive Database: The Blue Book offers an extensive directory of construction professionals, from general contractors to suppliers, across various regions and specialties.
Project Leads: It provides construction leads, allowing businesses to find new opportunities in their specific trade or region.
Networking: The platform enables construction professionals to connect, fostering business relationships and potential collaborations.
BBBID – Private Construction Network: This is The Blue Book's private network that connects general contractors, subcontractors, suppliers, and manufacturers. It helps manage communications, documents, and the bid management process.
Tools and Resources: The Blue Book provides various tools and resources to help construction businesses operate more efficiently, from preconstruction to project completion.
How Much Does The Blue Book Building & Construction Network Cost?
It's unclear whether The Blue Book Building & Construction Network charges to join. However, they claim that registration is free.
Is There a Free Version?
Registering is free.
FAQs About Construction Bidding Sites
Have more questions? Here are some frequently asked questions about construction bidding sites:
How Can I Bid on More Construction Jobs?
Bidding on more construction jobs depends on efficiency and having the right resources at your fingertips. A robust digital asset management (DAM) system, like OpenAsset, offers a significant advantage in this area. It provides speed in accessing all your project images and data. This means you can quickly put together compelling construction proposals, showcasing your past work and expertise.
Moreover, a good DAM ensures that every essential asset is well-organized and easily retrievable. This organized approach not only streamlines the bid preparation process but also guarantees that your presentations stand out professionally and are on-brand, making a lasting impression on potential clients.
Can I Find a Free Construction Bid Source?
Yes, there are free construction bid sources available. While many professional bidding tools come with subscription fees, some resources offer free access to basic services and charge for advanced features. For example, a website might allow you to view certain projects at no cost but charge for downloading detailed plans or using advanced search filters.
An excellent free option is government websites. They often list public construction projects that are up for bid. These sites are generally free to access and provide detailed project information. Additionally, local municipalities or county sites might also have bulletin boards or sections where local construction bids are posted.
Keep in mind that while these sources are free, they might not offer the same level of detail, user interface, or additional features that paid solutions provide. Furthermore, the scope of projects may be limited compared to comprehensive paid platforms. But for businesses just starting out or for those looking to expand their project search without additional costs, these free resources can be an ideal option.
What Should I Look For in a Construction Bidding Site?
When evaluating construction bid sites, check for the following key features and attributes to help you select a platform that best suits your business needs:
A broad range of updated projects from your specific sector.
Intuitive navigation with advanced search filters.
Easy access to vital project documents.
Alerts for new projects and bid deadlines.
The opportunity to connect with industry professionals.
Robust measures to protect data and sensitive information.
A cost that aligns with the value and features offered.
Reliable assistance when needed.
Compatibility with other construction tools.
How Can I Pick the Right Construction Bidding Website?
To help in your decision-making process, consider leveraging user feedback and reviews. These provide firsthand insights into a platform's strengths and potential challenges.
Additionally, ensure the bidding website offers plenty of projects within your specialty.
Lastly, many platforms offer trial periods or demos. Taking advantage of these can give you a practical sense of the platform's functionalities and help determine its alignment with your needs.
What Is the Best Construction Bidding Website?
The "best" construction bidding website largely depends on individual needs, costs, preferences, and the specific features one is seeking. However, BidClerk, Construction Bid Source, ConstructionWire, and Dodge Construction are often recognized as top construction bid sites.
Win Construction Bids Every Time With OpenAsset
While no tool can guarantee success in every construction bid, incorporating a Digital Asset Management (DAM) solution like OpenAsset can dramatically increase your AEC firm's chances.
By streamlining access to essential assets, ensuring consistently polished presentations, fostering efficient collaboration, and more, AEC firms can navigate the bidding process with enhanced precision and professionalism, leaving a lasting impression on potential clients.
The efficiencies gained from such a platform empower firms to increase their bid response rate and refine their proposals to better align with client expectations. In the competitive realm of construction bidding, having a tool like OpenAsset can be the game-changer that distinguishes a firm, setting it on a path to greater success. Are you ready to take a step forward and schedule a demo?